JFLL PROGRAMS & HEBREW SCHOOL REGISTRATION FORMS
Click each program for online registration
Once you've completed your online registration, a hard copy of your payment details will be mailed to you, to be filled out and returned to West End ASAP. If you have any questions, email

roshrin

[at]

westendsynagogue.org

.
We're excited to speak with our current and prospective JFLL families and WES members at large.

school

[at]

westendsynagogue.org

(Contact us with questions about our unique brand of Jewish education)

!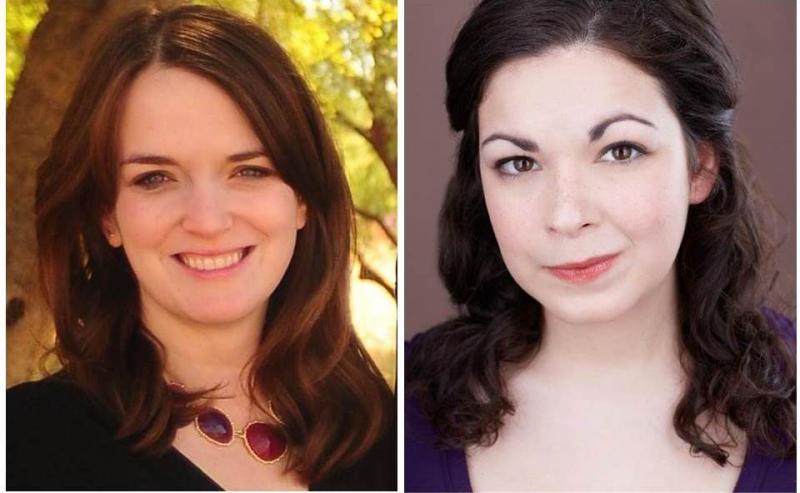 | | | |
| --- | --- | --- |
| Cantor Melissa Berman | | Rachel Oshrin |
| Director of Family Education | | Director of JFLL Programs & Operations |
| Meet our new Hazzan, Cantor Melissa Berman, who is not only a remarkable singer and musician, but also an experienced family program leader with a M.A. in Education. | | You may already know Rachel Oshrin as an experienced and dynamic teacher and family programming leader. This year, she will take the mantle of programming and administrative leadership of JFLL. |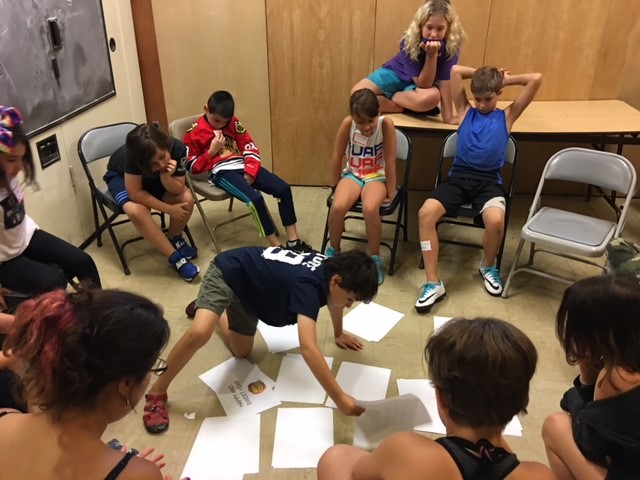 JFLL blends individual choice with experiential and whole family learning.
Our innovative, "whole family" approach to Jewish education, Jewish Family Life and Learning (JFLL), is a major departure from your parents' Hebrew School, and is making a big impression on kids and parents alike.
Our progressive educational approach encourages learners of all ages to make personal meaning from all our activities, and our JFLL program seeks to synergize classroom learning with a vibrant Jewish family life.
We believe that children's time in our classes and programs must be just as enjoyable as their best experiences in secular school, as well as their favorite extracurricular activities.
---
JFLL Weekday Classes, Tuesdays 4-6 PM
Each JFLL weekday session consists of three elements:
OPENING PROGRAM
We begin each session in community as all students gather for an engaging opening experience, which could be a story around the Parashah of the week, a creative project, or a song with the Cantor.
The Opening Program serves as a set induction for the day's lessons and is an opportunity for kids of all ages to bond through shared experience.
JUDAICS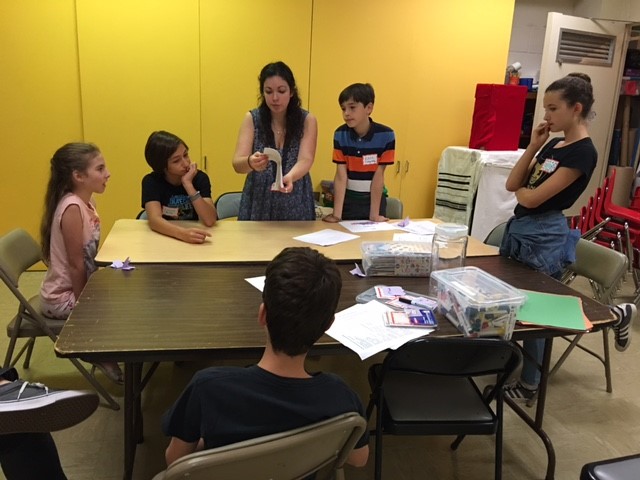 Through the lens of the synagogue-wide theme of the year, students engage in learning through art, drama, music, creative writing, debates, group projects and more. We favor an interactive learning model, so that classroom activities tap into multiple intelligences. We strive to support all learning styles.
HEBREW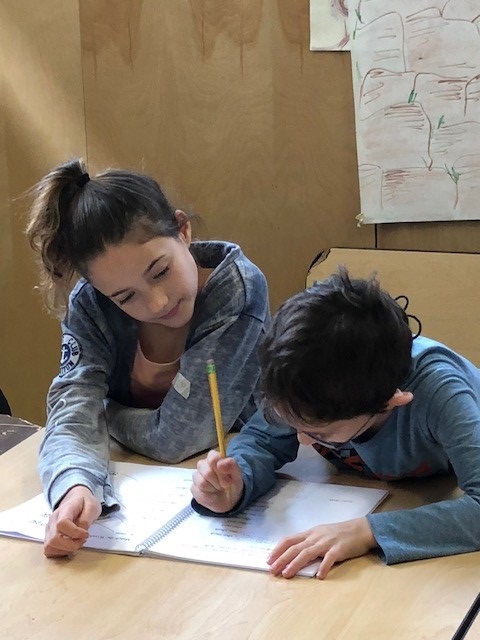 Using the Hevruta method of study, students of similar skill sets and learning styles work in pairs or small groups, at their own pace. Students in 3rd-7th grades apply their reading skills to learn Tefillah (prayer) and the basic vocabulary essential to Hebrew literacy.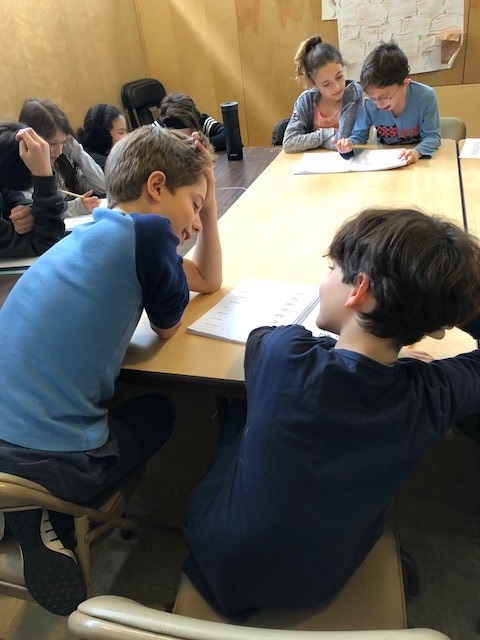 JFLL Family Shabbat Programming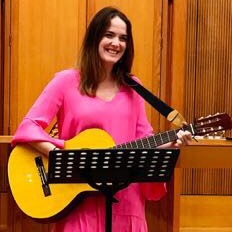 Every THIRD Saturday of the month from 11:15-12:15 in the morning, join us for a "camp style" musical Shabbat experience and an interactive Torah service for school age children and parents/caregivers — an age-appropriate, informal, accessible service designed to learn Shabbat melodies through the magic of song. Join the Cantor and talented lay leadership/musicians for a musical celebration of Shabbat for families! Then join the WES community for a festive kiddush luncheon. Visitors are always welcome!
"First Friday at 6" for all families, first Friday of each month, 6 pm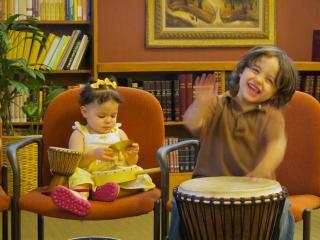 Catch the beat at our musical Kabbalat Shabbat service and storytelling for all ages led by Rabbi Georgette Kennebrae, the Cantor and the West End Synagogue house band! Pick up a complimentary percussion instrument and participate in the music making — then join us for a delicious, communal potluck Shabbat dinner!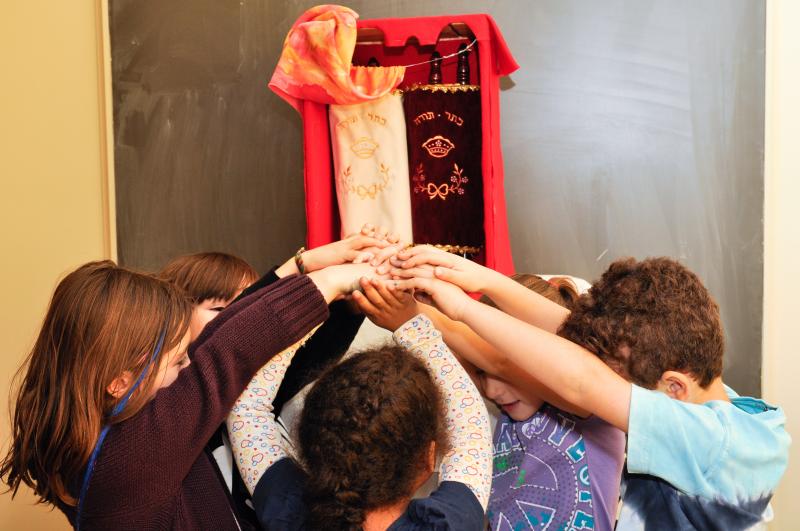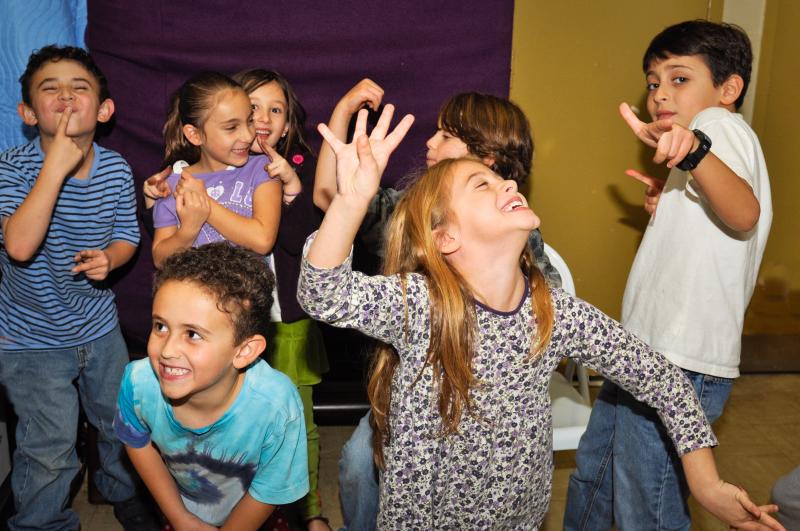 Our Tot Shabbat Service was carefully crafted by clergy, early childhood experts and professional Jewish educators, bringing a wealth of spiritual, liturgical and pedagogical knowledge to the process.
The result is a Service – comprised of child friendly melodies and activities – that directly parallels the Siddur; making it equally resonant for parents/caregivers steeped in Jewish tradition or for those new to Shabbat prayer.
KEF KIDS for PRE-K to 1st Graders
Kef Kids meets two Saturdays a month, from 2:00-3:30pm at West End Synagogue
Read more about Kef Kids ...
Special guests from Israel!
We can't wait to welcome next year's shinshin! Thank you to Ido, Itamar, and Dan, who have been guests and teachers already! Our Shinshinim come to us every year as representatives from The Jewish Agency/UJA to teach our students all about Israel. They work every Tuesday during JFLL and will also be present for some of our Kef Kids classes and special chagim. We look forward to Shinshinim every year! They need loving homes to be billeted in throughout the year! If you can offer a room in your home for a month or two, please contact aporzecanski [at] westendsynagogue.org (subject: I%20have%20a%20room%20for%20the%20Shinshin) (t)jerber [at] westendsynagogue.org (subject: I%20can%20billiet%20a%20shinshin) (he office)!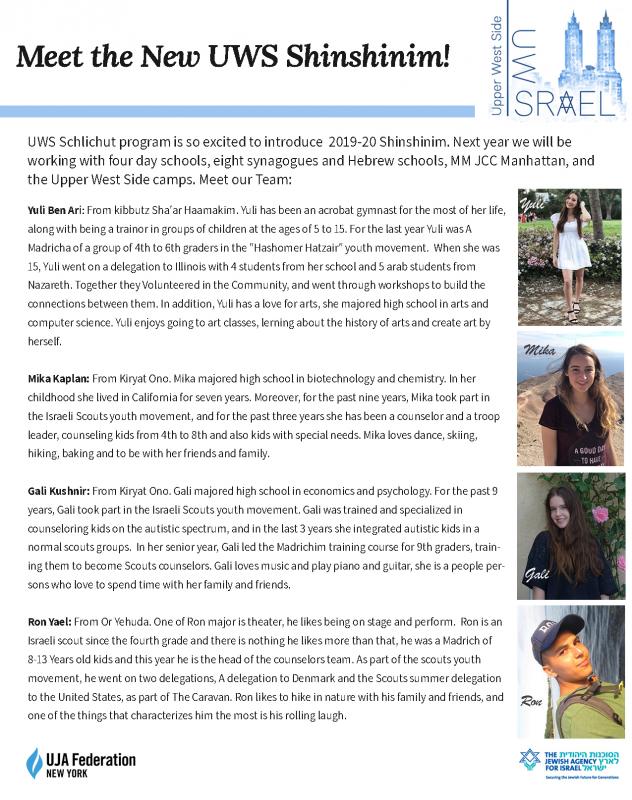 ---
school

[at]

westendsynagogue.org

(subject: I'd%20like%20to%20know%20more%20about%20the%20JFLL%20program)

(YES, I WANT MORE INFORMATION ABOUT THE WES JFLL PROGRAM. (email request))