October 31, 2014 -

8:00pm
HaMinyan: A Jewish Broadway Shabbat
Friday, October 31, 2014
8 pm
Explore the themes of the Shabbat evening service using songs written for Broadway musicals by Jewish composers including Irving Berlin, George and Ira Gershwin, Richard Rodgers, Jerry Herman, Sheldon Harnick, Stephen Sondheim, and more.
HaMinyan is West End's lay-led, often experimental and always interesting service. HaMinyan takes place at 8:00 pm on the fifth Friday of the month, whenever a fifth Friday occurs. (There is no 6:30pm service on those dates.)
Tot Shabbat for 0-4 Year Olds and Parents, every Shabbat/Saturday, 11:30 am
Join Alexis Fishman, winner of the Next Broadway Musical Star competition, for a free, drop in musical program for children 0-4 years old every Shabbat morning from 11:30 am-12:15 pm, featuring music, parent-child interaction, and stories. Visitors always welcome!
Shirat Shabbat ("Song of Shabbat") for K-4th Graders and Parents, every Shabbat/Saturday, 11:15 am
Join our amazing Hazzan Ayelet Piatigorsky, Rabbi Nadia Gold, and talented Jewish educator/musicians for a musical celebration of Shabbat for K-4th graders, we will be holding a weekly Shirat Shabbat musical program each Saturday morning from 11:15 am-12:15 pm. Then join the WES community for a festive kiddush luncheon. Visitors always welcome!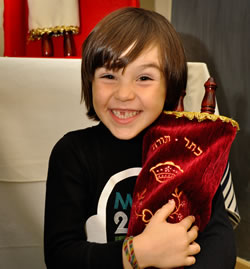 We proudly offer a cutting-edge approach to Jewish education blending individual choice with experiential and whole family learning. This year we are excited to pilot a new partnership with the groundbreaking Jewish Journeys Project (JJP) at the JCC in Manhattan for families with 3-4th grade children.
Click here for quick links to request info or registration forms for 2014-2015. Rabbi Nadia Gold, our Director of Family Engagement, is always eager to speak with our current and prospective JFLL families and WES members at large. To learn more about our about our unique brand of Jewish education, make an appointment to meet with Rabbi Nadia or schedule a visit.