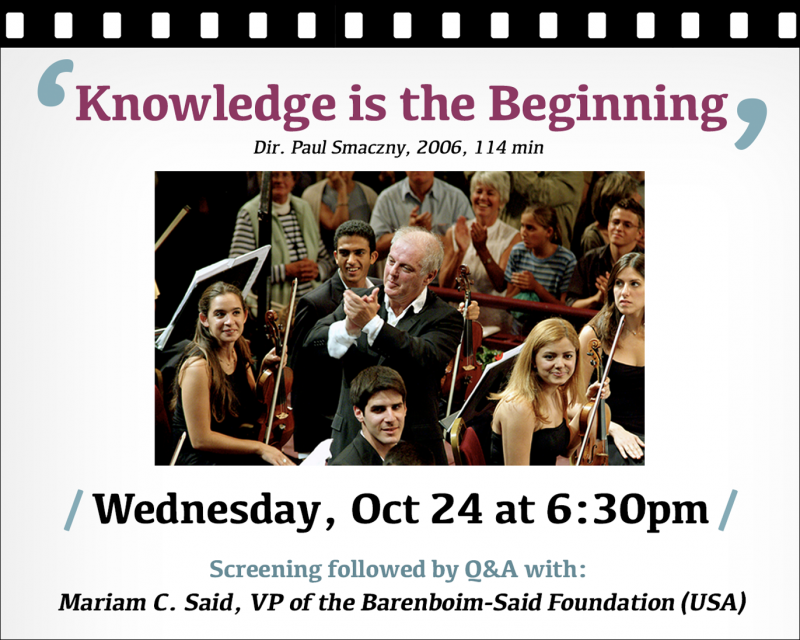 A Film by Paul Smaczny
(Germany, 2006, 114 Minutes, English, English subtitles) Knowledge is the Beginning is the story of the West-Eastern Divan Orchestra where young Arabs and Israelis perform side by side. The film illustrates how prejudices are overcome during rehearsals, concerts, and after-concert celebrations. For Daniel Barenboim, founder of the ensemble together with Edward Said, the orchestra is a symbol for what could be achieved in the Middle East.
The West-Eastern Divan Orchestra, a name derived from a collection of poems by Goethe, today embraces eighty Arab and Israeli musicians aged thirteen to twenty-six. Director Paul Smaczny has followed the orchestra since its inception. The film chronicles all five summer workshops in Weimar and Seville, Barenboim's visit to Ramallah and Jerusalem in May 2004 – during which he received the prestigious Wolf Prize at the Knesset – as well as the sensational concert in Ramallah in August 2005. In the early 1990s, a chance meeting between Mr. Barenboim and the late Palestinian-born writer and Columbia University professor Edward Said in a London hotel lobby led to an intense friendship that has had both political and musical repercussions. These two men, who should have been poles apart politically, discovered in that first meeting, which lasted for hours, that they had similar visions of Israeli/Palestinian possible future. They decided to continue their dialogue and to collaborate on musical events to further their shared vision of peaceful coexistence in the Middle East.
The West-Eastern Divan Workshop took two years to organize and involved talented young musicians between the ages of 14 and 25 from Egypt, Syria, Lebanon, Jordan, Tunisia, and Israel. Edward Said passed away in 2003 but his partnership with Daniel Barenboim lives on through the West-Eastern Divan Workshop and Orchestra and through the Barenboim-Said Foundation, which promotes music and co-operation through projects targeted at young Arabs and Israelis.
Presented on the occasion of their concert at Carnegie Hall on November 8, 2018

Secure online registration is available through ChaverWeb at the above "GET TICKETS" link.
Tickets: $10 Members; $12 Non-Members.
WES Members, after clicking the link, log in to your ChaverWeb account. Non-members may create a Guest Account.
Once logged in, if you don't see the "Knowledge..." signup form right away, please click on "Event Signup" then "Signup" when you see "Knowledge..." dropdown choice. After making your selections on the signup page, click the "Sign Up" button at the bottom, and follow further directions for payment. If you have any difficulties registering, please call the office at (212) 579-0777.