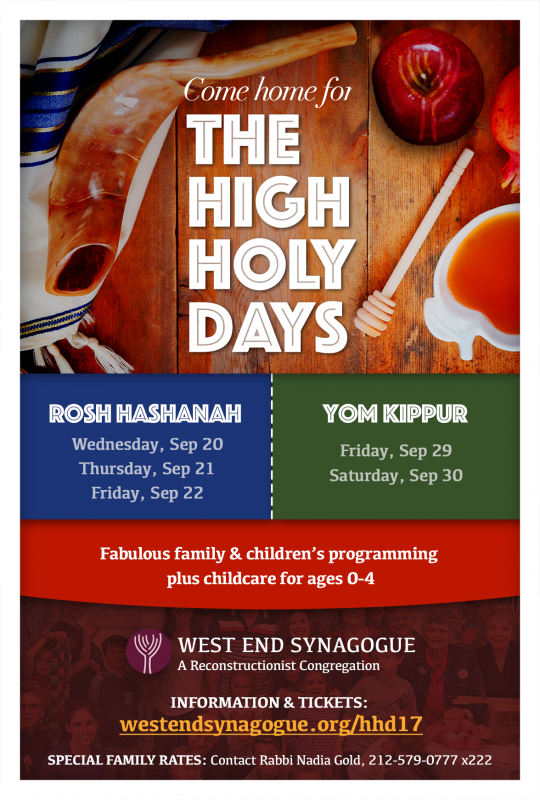 Rosh Hashanah
Erev Rosh Hashanah* - Wednesday, September 20
Rosh Hashanah, Day 1* - Thursday, September 21
Rosh Hashanah, Day 2* - Friday, September 22
Yom Kippur
Kol Nidre* - Friday, September 29
Yom Kippur* - Saturday, September 30
Study Session or Walk
Mincha, Avodah, Neilah
Tekiat Shofar, Havdalah
*Childcare available for 0-4.
(Children and family services/activities coordinate with main services)
Ticket Information
Tickets are required for Rosh Hashanah, Kol Nidre and
Yom Kippur services.

Childcare, children's and family programming are provided
without additional charges and are coordinated with the main worship services.

MEMBERS: High Holy Day tickets are included in membership benefits for members and their children up to age 22. Members may also purchase additional tickets for guests. (Please log in to access these forms).

BE OUR GUEST(S)!: If you are not a member of West End Synagogue, we would love to host you for the High Holy Days.
Please download the Guest Ticket Order Form HERE, or call the Synagogue office (212) 579-0777 for more information.

Call Rabbi Nadia Gold at ext. 222 for special Family rates!
Services take place at a different location. For more information,
call Synagogue Administrator Nadia Kahn at (212) 579-0777
or email

wesoffice

[at]

westendsynagogue.org

.