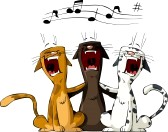 West End Synagogue High Holy Day Choir
In preparation for the High Holy Days the West End Synagogue volunteer choir will be holding rehearsals Saturdays after kiddush in the Sanctuary. Click the image to go to the choir page with rehearsal recordings and sheet music!
If you have interest in joining the choir, there are no auditions, only passion and commitment required!
Contact Hazzan Ayelet at aporzecanski [at] westendsynagogue.org (subject: I'd%20like%20to%20find%20out%20about%20the%20choir) for more information.