The Shlichut program is a joint UJA-federation - Jewish Agency for Israel endeavor. In the program, a senior Shaliach (community organizer) and a group of Shinshinim (18 years old in their gap year, pre army) come from Israel in order to engage in the communities in New York area. The Upper West Side program started in the summer of 2016. Hai, the Shaliach, and Ido and Maya, the Shinshim, work with 14 organizations on the UWS, engaging Israel to the communities.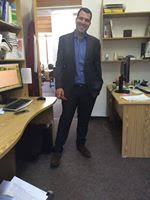 Hai Piesezky (Shaliach)
makes his home in Israel with his wife and family. He holds a BA in general history and Israel studies, a pedagogical degree from Ben Gurion University and an MBA in social leadership from Ben Gurion University and Mandel foundation.
Hai's theme will be "Israel - a Start Up Nation;" he will be discussing the many challenges facing Israel as a small country, focusing won Israel's amazing achievements and challenges in the areas of high technology, social innovation, agriculture, and health. There will questions and answers following his presentation.
In the last two years, Hai worked as a program director in the western Negev for the JDC's Institute for leadership and governance. There he worked with CEOs, senior staff and mayors in the municipalities and cities and led processes of collaborations, multi sectoral partnerships and leadership development.
In 2011–2014 Hai worked for the Rothschild Caesarea foundation, as the Director of the BR Ambassadors program in Beer Sheva and the CCO of the organization (partnerships manager).