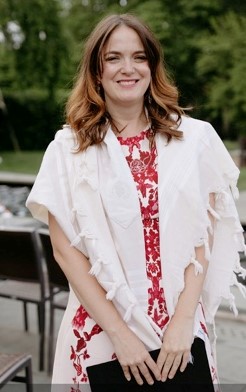 "West End Synagogue embraces the transformative power of music in Jewish life. As the universal language, music elevates our joy, serves as a balm to our sadness and connects us to the members of our community when we join together in prayer. Our music is always evolving, as we incorporate traditional melodies and new compositions from around the world into our services and our choral repertoire. We are blessed to have so many talented musicians and music professionals as part of our community." Hazzan Melissa Berman
Melissa Berman is thrilled to be joining the WES team back home in New York after living in Hong Kong and Arizona. With classical vocal training and a B.A. in music from Duke University, Melissa went on to become a Cantor, receiving a Masters in Sacred Music from the Jewish Theological Seminary, coupled with an M.A. in Jewish education. She has a unique style, blending the best of Jewish tradition with a modern flare. Melissa is passionate about enhancing Jewish life cycles and rituals for people of all backgrounds. Melissa's favorite part of being a Cantor is the opportunity to make meaning of, and be a part of, sacred moments in people's lives.
Melissa has a passion for chaplaincy work and social justice. She completed four intensive units of Clinical Pastoral Education (CPE) at New York hospitals. She also worked as an on-call chaplain with Jewish Family and Children's Services while serving as cantor at Congregation Or Tzion in Scottsdale, Arizona.
Melissa was most recently the Cantor and Programming Associate at The United Jewish Congregation of Hong Kong where she served for three years. While at the UJC she created innovative programming for young professionals and Jewish youth in Hong Kong and across Asia.
In her free time, she enjoys travel, photography, baking, literature and pilates.
Cantor Melissa Berman
Director of Family Education
West End Synagogue
190 Amsterdam Avenue
New York, NY 10024
Phone: 212.579.0777
Fax: 212.579.2669
cantor [at] westendsynagogue.org