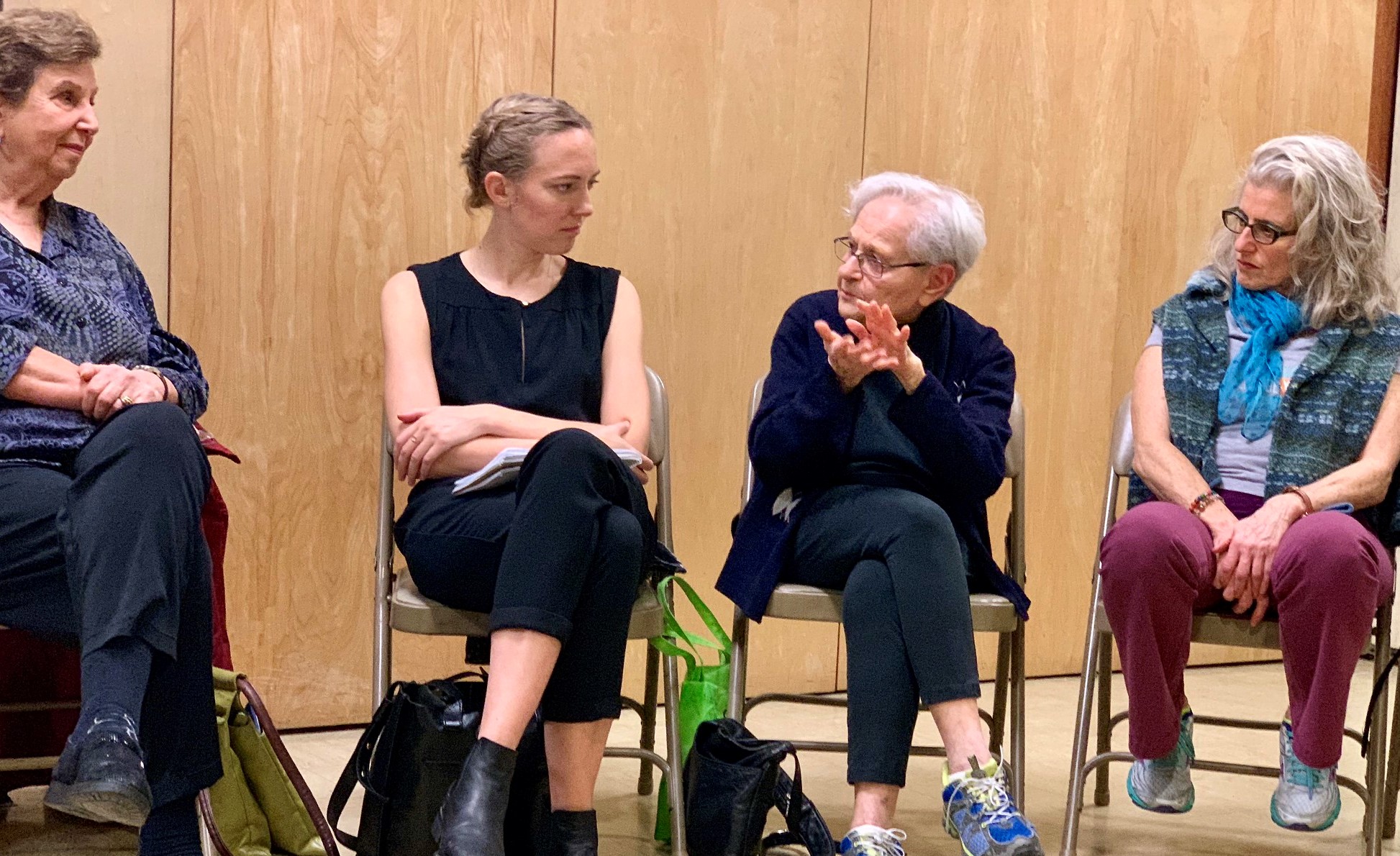 West End Synagogue is committed to universal adult study of Jewish sources, history and cultural expression in its many forms. Through our Adult Education Project, we pursue our vision of a congregation as literate and well-educated in Jewish terms as it is in secular terms.
---
Plan to join us for stimulating and thought provoking events! Our complete 5780 (2019-2020) Schedule of lectures, courses, Shabbat study and ongoing study groups is below.
LECTURES / EVENTS
WHERE IN THE WORLD IS MT. SINAI?
Thursday, Oct, 17, 7:00 pm
Sanford Lacks
THE KISHINEV POGROM OF 1903 AND THE ORIGINS OF MODERN ANTI-SEMITISM
Wednesday, Nov. 6, 7:00 pm
Steven Zipperstein, Daniel E. Koshland
Professor in Jewish Culture and History at Stanford University
PURSUING URBAN SCHOOL REFORM:ATEACHER'S JOURNEY
Wednesday, Jan. 29, 7:00 pm
Henry Saltzman
THE JEWISH PRESS: A CENTURY AGO AND TODAY
Wednesday, March 18, 7:00 pm
Samuel Norich
WES "LITTLE THEATER"PRESENTS "BAD JEWS"BYJOSHUA HARMON
Wednesday, May 12, , 7:00 pm
David Prager
WHAT MATTERS
A three-part series
Robert Teicher, "Trusts and Estates." Tuesday, Jan. 14, 7:00 pm
Further events, TBA
WES COURSES
SPIRITUAL AUTOBIOGRAPHY
3:00 pm to 5:00 pm
Every other Monday beg. Sept. 23
Led by Judith Friedman
Participants will write and share short pieces on childhood memories, spiritual awakenings, personal understandings of the Torah stories and more. WES members only.
TORAH ON TUESDAYS
7 pm to 9 pm
2nd & 4th Tuesdays of each month
Led by Susan Schorr
All are welcome to join this ongoing study of the Torah in English. Drop in and join the conversation. Please check the calendar for updates.
WISE AGING: LIVING WITH JOY, RESILIENCE AND SPIRIT
4:00 pm to 5:30 pm
8 Wednesdays, beginning Nov. 6, 2019
Led by Sandy Warshaw
An eight-week course to explore the power to prepare, to become stronger, more resilient and navigate the challenges of aging. Limited to 10-12 participants 60+. only. WES members only.
AMOS OZ,"A TALE OF LOVE AND DARKNESS"
7:00 pm to 8:30 pm
Tuesdays, Sept. 24; Oct. 15, 29; Nov. 12, 26;
Dec. 10, Jan. 7
Led by Carole Kessner
In memory of the great Israeli writer Amos Oz, we will read, in six meetings, his masterpiece memoir. Profoundly personal and historically insightful, the book details Oz's life from his right-wing childhood to his adolescent move to a kibbutz to change his name and sense of elf. Through all, Oz remained a faithful lover of Israel.
LEONARD COHEN: SPORTSMAN, SHEPHERD AND LAZY BASTARD (IN HIS OWN WORDS)
7:00 pm to 9:00pm
2 Wednesdays, Nov. 20 and Dec. 4
Led by Susan Schorr
On Nov. 20, we will look at the last decade of Leonard Cohen's life and on Dec. 4, we will consider his message as prophet..
THE JEWISHNESS OF KEY INTELLECTUALS AND CULTURAL FIGURES OF OUR TIMES
7:00 pm to 8:30 pm
Tues., Dec. 3; Weds., Dec. 18;Thurs., Jan. 2;
Weds., Jan 15
Led by Irwin Wall
We will look at the "Jewishness" of Karl Marx, Sigmund Freud, Albert Einstein, and Franz Kafka. All four were bom ethnicallyJewish and culturally German. To what extent did they identify as Jews, what role did their Jewish origins play in determining the course of their careers, and to what extend did their understanding of Judaism and Jews influence their life work?
THE SONG OF SONGS: THE WORLD'S FIRST GREAT LOVE POEM
7:00 pm to 8:30 pm
2 Wednesdays, Feb. 19, Mar. 4
Led by Art Spar
Using the 1995 Chana Bloch/Ariel Bloch translation, we will take a fresh look at The Song of Songs.. How did this voluptuous poem get incorporated into Holy Scripture? How was this powerful female voice interpreted by male hegemony? How shall we read it today? Join us for a unique experience in poetic love.
THE BOOK OF JOB AND 'THE MASQUE OF REASON" BY ROBERT FROST
7:00 pm to 8:30 pm
4 Wednesdays, Apr. 15, 22, 29;May 6
Led by Mel Scult
A comedy on a very serious subject, the play claims to be a 43rd chapter of the 42-chapter book ofJob. It presentsJob, Mrs.Job and God many years afterJob's trials, all in quest of answers to the fundamental problem of evil and suffering. Please bring a copy of the Bible, includingJob, to the first session.
DISCOVERING THE JEWISH PALETTE: THE ROLE OF COLOR IN OUR JEWISH LIVES
7:00 pm to 9:00 pm
8 Mondays, Apr. 6, 13, 27;May 4, 11, 18; June 1, 8
Led by Susan Schorr
We will explore the use of color in the Torah, in our ritual objects and in the language of prayer; and discuss how color-related associations influence our Jewish lives.
SHABBAT-BASED LEARNING
TORAH STUDY
9:00 am to 10:00 am
Shabbat mornings
Led by Rabbi Georgette Kennebrae
Every week, Rabbi Kennebrae leads text study of the weekly Torah portion. As a learning community, we seek to draw on our texts, honor them for what they represented in their time of creation and explore how they can be applied in our time.
SHABBAT STUDY MINYAN
10:00 am to 11:15 am
Shabbat mornings
Led by Michael Graff
Close study of essential Jewish texts. Reading in advance of each session required.
HAMATMID/JEWISH ETHICS
1:30 pm to 3:00 pm
Shabbat afternoons
Led by Susan Schorr
Drop in any Shabbat and join the discussion. First and third Saturdays we study texts—either the haftarah of the day or selected passages from the prayerbook. On the second and fourth Saturdays, we discuss ethics drawing from our tradition and our life experiences.
CHUG IVRI
2:00 pm to 3:00 pm
Last Shabbat of each month
Held in members' homes
Led by David Goldfarb
A chance to gain fluency in Hebrew by reading and discussing stories, poetry and articles on current affairs.
THE MEANING OF CHANUKAH AND ITS RELATION TO OUR LIVES
1:30 pm to 3:00 pm
Shabbat afternoons, Dec. 7 and 14
Led by Bob Pollack
JEWS AND GENES: THE DIFFERENCE BETWEEN IDENTITY AND JEWISH ANCESTRY
1:30 pm to 3:00 pm
Shabbat afternoons, Mar. 7 and 14
Led by Bob Pollack
What does it take to be a Jew and who decides that? We will review historical and modem answers and consider the differences betweenJewish identity— a matter of choice and communal judgment— and our Jewish ancestry, which some may think of as predestined based on our DNA.
FAMOUS JUDGES FROM OUR HAFTAROT: SAMSON
1:30 pm to 3:00 pm
Shabbat afternoon, June 6
Led by Connie Goldfarb, Jerry Posman and Alan Gotthelf
SCHOLAR-IN-RESIDENCE WEEKEND
- TBA -

MIDDAH (MORAL TRAITS) STUDY
TIKKUN MIDDOT PROJECT
WES members continue to study middot using the Tikkun Middot Project materials from the Institute for Jewish Spirituality as well as other resources, designed to promote the development of a contemporary Jewish spirituality practice.
MIDDAH ON MONDAYS STUDY GROUP
7 pm to 9 pm
Third Monday of each month
All WES members are welcome to join this ongoing group which explores West End's Middah of the Month using both traditional materials and a wealth of texts from modern authors, pop culture and more.
---
West End Synagogue is committed to universal adult study of Jewish sources, history and cultural expression in its many forms. Through our Yad Mordecai Adult Education Project, we pursue our vision of a congregation as literate and well-educated in Jewish terms as it is in secular terms.
Adult Education programs and activities focus on the vital areas of education, community, and outreach:
Education - Working to deepen the congregation's Jewish knowledge at all levels through educational and cultural programs and events.
Community - Involving members, enhancing interaction among the various WES populations, enriching the communal life of the congregation, and complementing school programs for parents.
Outreach - Providing educational opportunities for the community at large that enhance Jewish living and promote Reconstructionism.
Activities sponsored by Adult Education include:
Single-session lectures and courses, as well as longer series on selected topics by our Rabbi, Cantor, and invited speakers.
A variety of musical, theatrical, and literary programs.
Scholar in Residence and Artist in Residence programs that bring prominent figures in Jewish thought and culture to West End Synagogue.
For more information contact the wesoffice [at] westendsynagogue.org (WES Office).